Sustainability at Princesshay
We take our commitment to the environment very seriously and love to work with brands that share the same ethos.
We're proud of our brand partners' efforts and environmentally-conscious initiatives, including recycled fabrics, buy-back schemes and a mission to go vegan. Many of our stores have started impressive sustainability schemes; here's a snapshot of just some of the incredible ways we're looking after our environment across the centre.
Initiatives we love!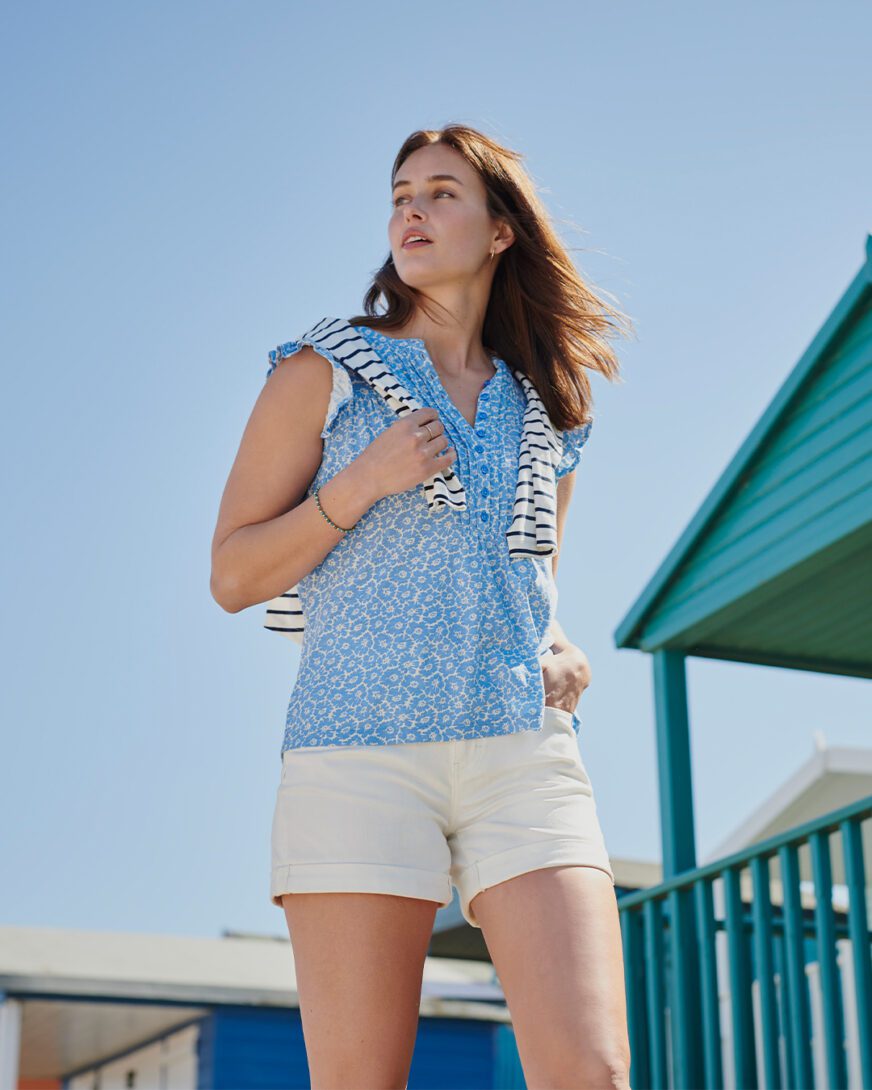 Crew Clothing
Crew Clothing was born in the back of a windsurfing shop in Salcombe, so the country's shoreline is at the forefront of the brand's spirit and serves as a daily reminder to do better by the planet.
Crew aim to save fresh water by using more sustainable processes. The dyeing of their Ocean range products uses half the amount of water than other products and 92% of that is recycled. It's crafted from organic cotton piqué that's grown without pesticides, using 88% less water than normal cotton. Plus, a donation from every sale goes to ocean conservation!
FatFace
100% of FatFace's cotton is sustainably sourced, and the brand is working hard to use more responsible materials. To further reduce their environmental impact, Fat Face is committed to using less chemicals, reducing water consumption, and making sure those who make the clothes are treated fairly.
Neal's Yard Remedies
Neal's Yard Remedies was the first UK high street retailer to be certified carbon neutral, having offset their greenhouse gas emissions every year since 2008. 100% of their plastic bottles up to 200ml are 100% recycled plastic. They also use responsibly sourced paper and card, use 100% renewable energy, recycle more than 20% of their water at their eco-factory, have never tested on animals, and over 90% of their ingredients are certified organic. Now, marking their 10th anniversary as the world's first carbon-neutral high street retailer, they continue to lead in global sustainability efforts with their Soil Association-certified organic beauty and bath products.
Oliver Bonas X Reskinned
Oliver Bonas is committed to ensuring their products are loved, worn for years, and used to their fullest potential. To fulfil this commitment, the brand has partnered with Reskinned to refurbish pre-loved OB clothing, getting it ready for resale. This collaboration, known as Oliver Bonas X Reskinned, extends to clothing, footwear, accessories, and bags. As a token of appreciation, you will receive an exclusive Oliver Bonas discount code for your next shopping trip. To learn more about the collaboration between Oliver Bonas and Reskinned, simply inquire with one of our team members during your next visit to the Princesshay store.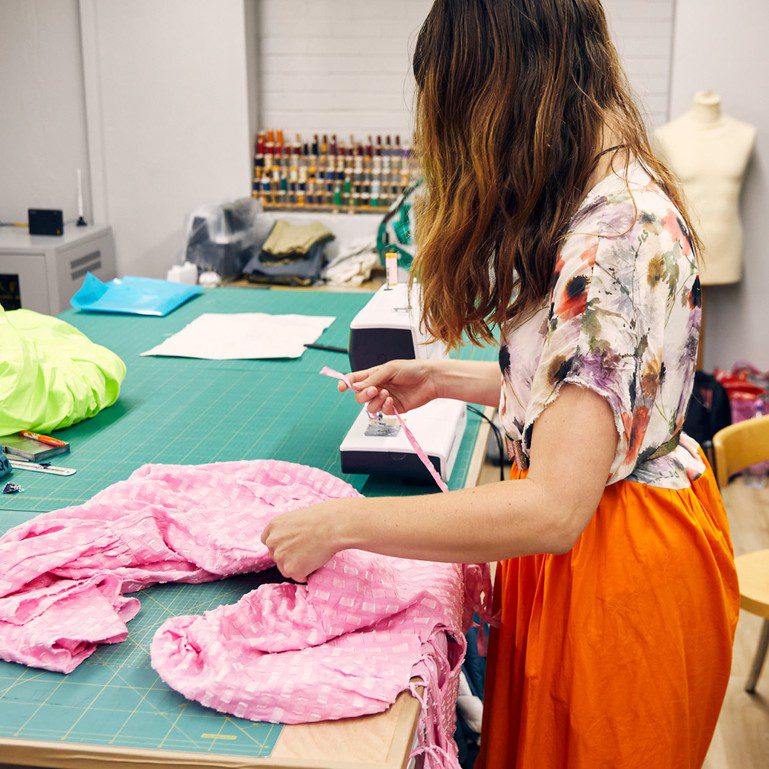 Reiss
Reiss have partnered with BCI (Better Cotton Initiative) and have committed to 100% of the cotton sourced by them being more sustainable by 2050. They will also reduce their carbon emission to zero or less by 2040, reduce their waste to zero by 2025 and reduce the use of water and energy in all activities.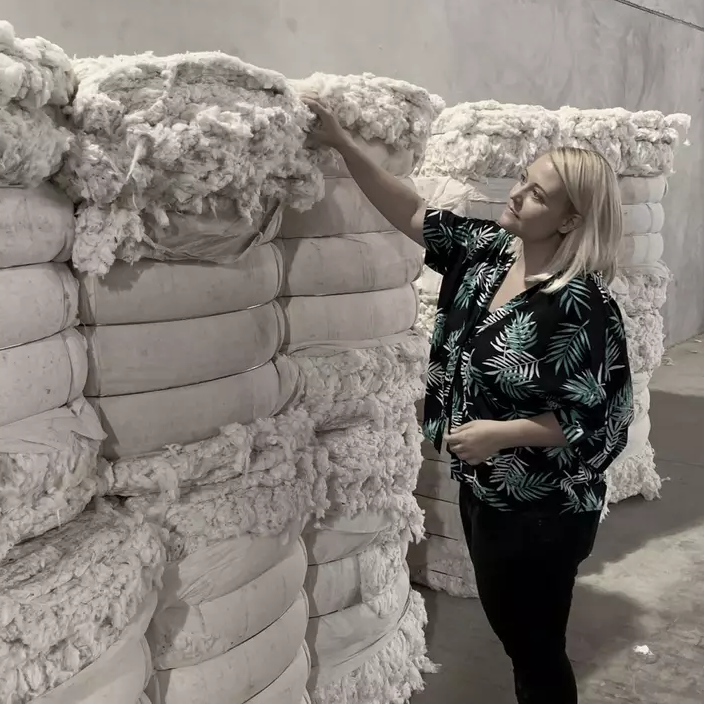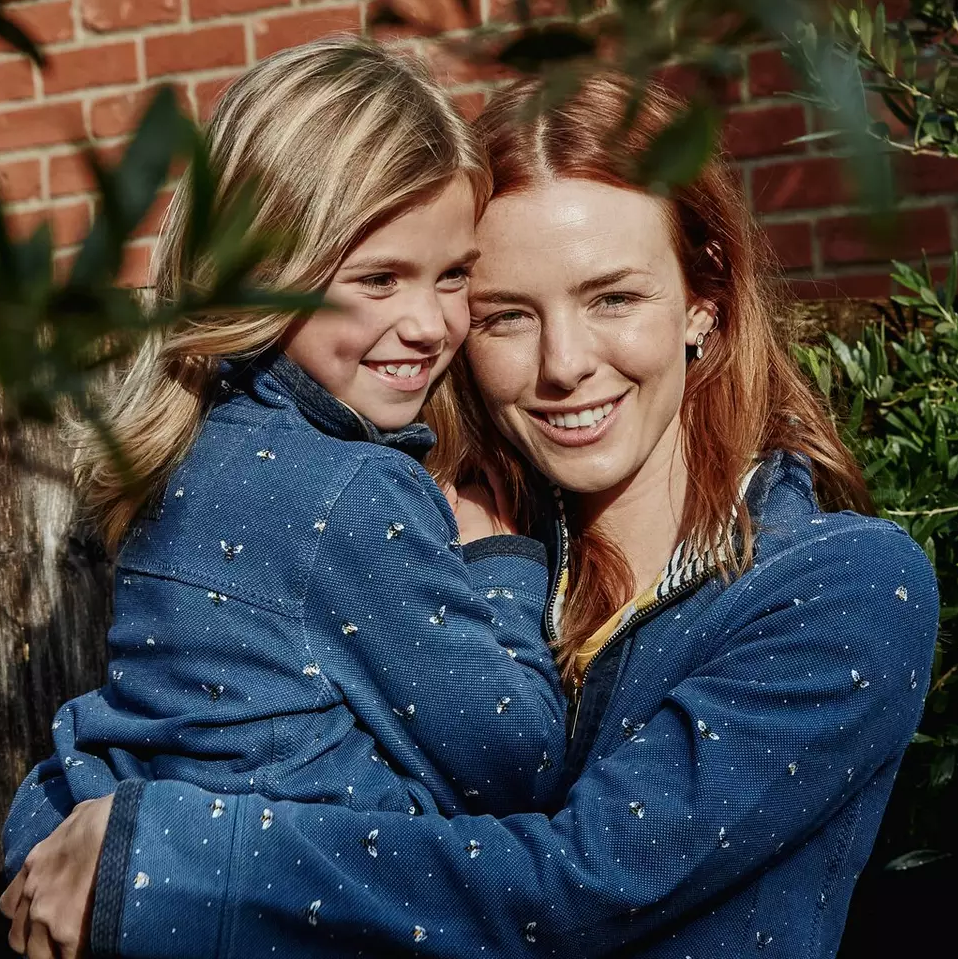 Above: Reiss are committed to sourcing more sustainable cotton
Zara
As part of their commitment to circularity, Zara's Pre-Owned programme offers three ways to support the reuse and recycling of their clothing. Find out more!
Repair: You can request repairs for any previously owned Zara garments from any season. The services encompass a wide range of options, including button and zipper replacements, seam repairs, and more. Customers can initiate this process online or at a Zara store of their choice.
Resale: Zara Pre-Owned allows you to both sell and purchase Zara clothing items from any collection.
Donation: Through Zara Pre-Owned, you have the option to arrange for the collection of used clothing from your home, which will be donated to the Red Cross. Similar to in-store donation containers, online garment donations contribute to this charitable cause.
Bring/buy-back schemes…
Coffee#1
Bring your own cup to Coffee#1 and you'll get 25p off your purchase! You can also buy a Coffee#1 reusable Keep Cup in store.
L'Occitane
L'Occitane is committed to promoting sustainable sourcing of raw materials and reducing the impact of their production. Plus, 80% of their formulas are easily biodegradable.
Through their partnership with Terracycle, L'Occitane offers 10% off when customers bring back plastic or aerosol containers from any brand.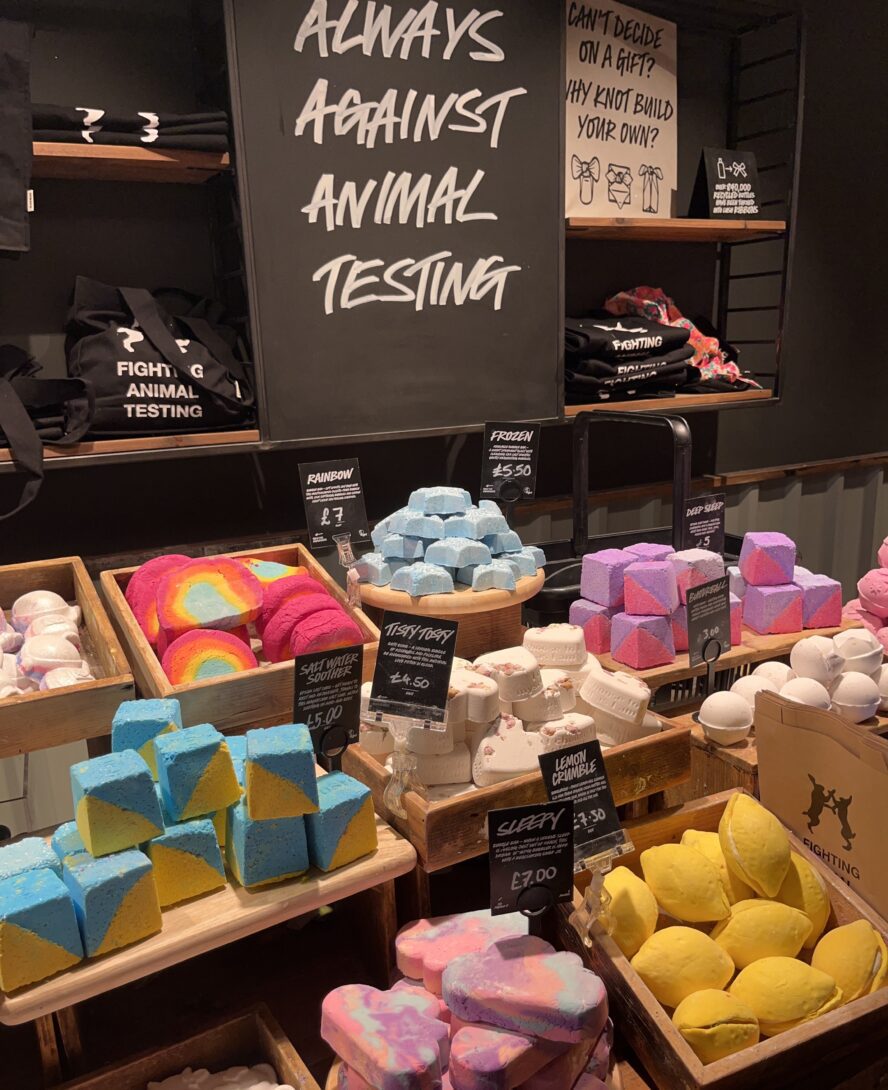 Lush
As the creator of the first ever shampoo bar, Lush is known for its commitment to the environment.
All of the packaging/plastic pots at Lush have been made from recycled plastic from their return schemes, meaning that they have not needed to use new raw plastic since 2013!
For every five black pots a customer returns to the store they get to take away a free fresh face mask, and customers can also get 50p off their purchase for each individual piece of plastic packaging that is returned.
Molton Brown
Molton Brown offers a refillable product range, cutting plastic by 63%, plus they operate a return, recycle, reward scheme, which offers 10% off for every 300ml bottle (or bottles that add up to 300ml) donated.
Their production facility is carbon neutral, using 100% renewable electricity since 2016.
OverAir
If you have electronic equipment you no longer need, OverAir provides a recycling service to ensure proper disposal. OverAir collaborates with their sister company, GiftTech, to donate any old, repairable, or reusable technology to those in need. Technology that has reached the end of its lifecycle is recycled responsibly, reducing the demand for landfills.
Rohan
Twice a year, Rohan runs a Gift Your Gear initiative where you can bring your outdoor kit to Rohan stores, and as a thank you, Rohan will offer a discount off your next Rohan purchase. To find out when they are next collecting donations, you can sign up to their mailing list on their website.
Schuh
Through their 'sell your soles' scheme, you can hand in any unwanted shoes at Schuh and you'll receive a £5 voucher for use on a full-price item!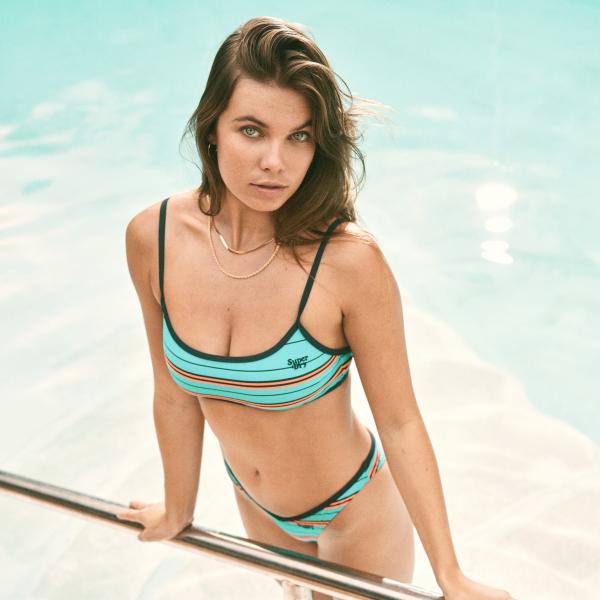 Superdry
Superdry has partnered with Oxfam to offer a Give Back Box where customers can donate old clothes and all items will be resold, reused, or recycled. You will also be entered into a prize draw to win £100, and, for every donation received, Superdry will donate £1 to Oxfam.
The brand is also committed to using more raw materials, having used vegan leather in 98% of their footwear in 2022, and a pledge to use exclusively organic cotton by 2025.
This year, they took 5.25 million bottles and recycled them to create their very first swim collection – 100% recycled!
Above: This year Superdry released its new 100% recycled swimwear collection
The future's bright…
AllSaints
AllSaints are currently 80% sustainable, but they're aiming to be 90% sustainable by 2025. With a commitment to a more environmentally friendly future, AllSaints are introducing recycled yarns like polyester, cashmere and Econyl, along with organic and BCI verified cotton, responsible wool standards, fabrics derived from tree pulp such as Ecovero and Tencel. Find out more about their mission.
Oliver Bonas
In almost all Oliver Bonas stores and offices, 100% of waste is now diverted away from landfill. The brand has even set a target to have an 80% recycling rate from their stores.
River Island
Discover the denim of your dreams at River Island! Every bit of cotton used in River Island's jeans is responsibly sourced, with plans to achieve 100% recycled, organic, or Better Cotton in the near future. Furthermore, River Island is committed to minimising water consumption in denim production, aiming to limit it to 22 litres or less per garment by year's end. Explore your ideal style at River Island in Princesshay.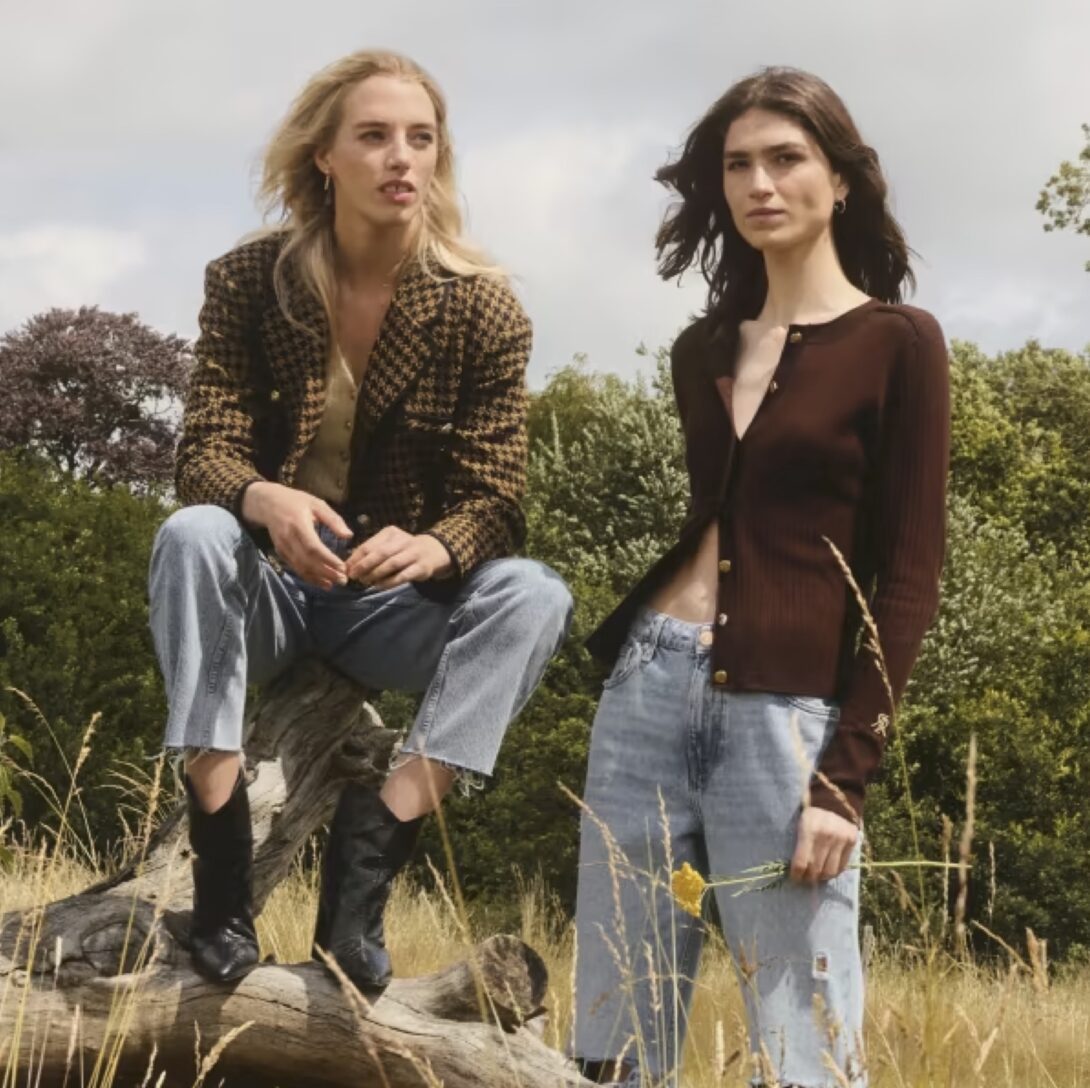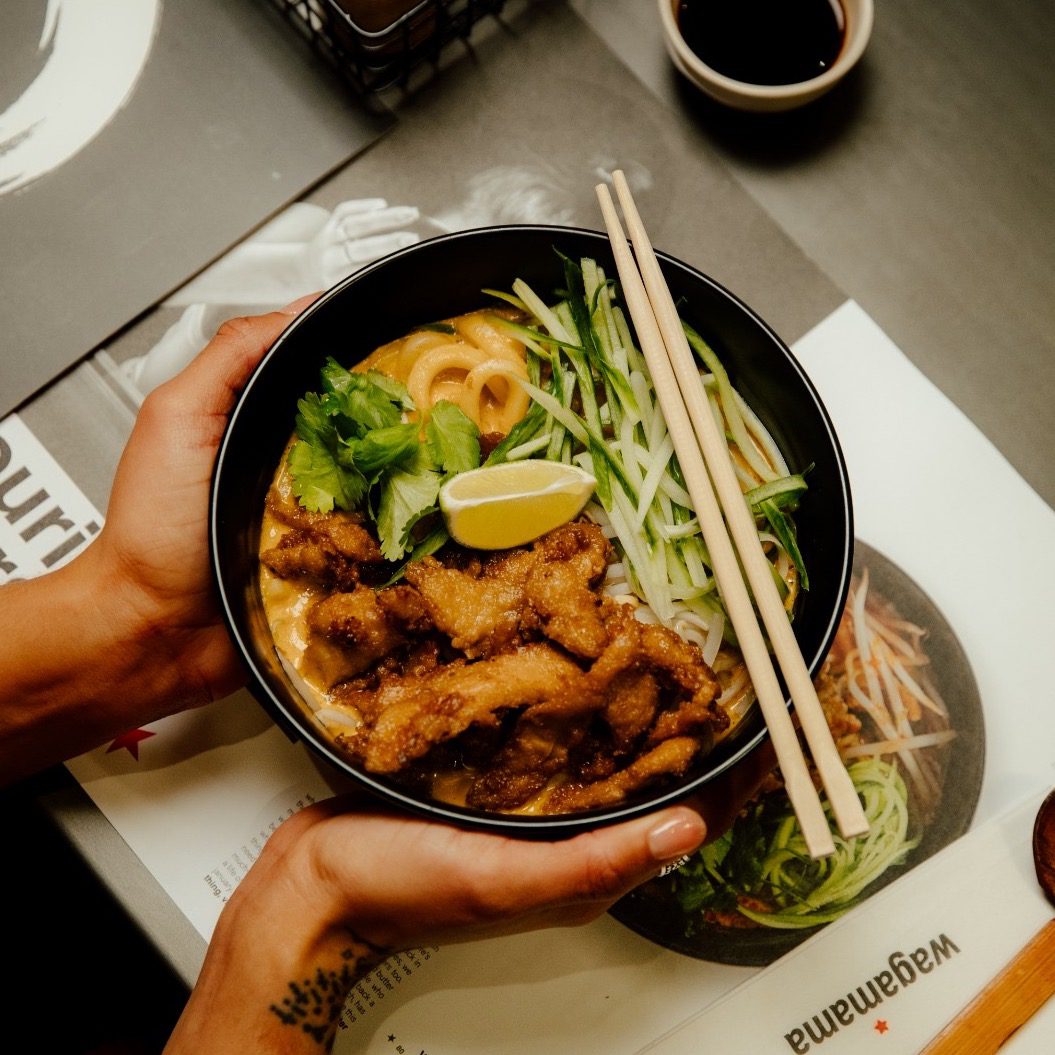 wagamama
The single most effective way to have a positive impact on our planet is to eat more plants – wagamama committed to making 40% of their menu plant-based which was achieved by the end of 2021!
Now they're going for plastic, replacing up to 330 tonnes of virgin plastic each year – one bowl at a time.
Above: Wagamama are committed to reducing their environmental impact