Busking Programme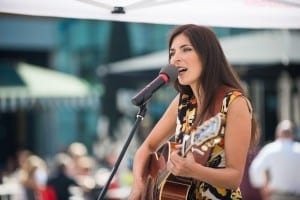 Unlike a traditional covered shopping centre, Princesshay is a lively streetscape scheme which combines shopping with leisure and residential.  The residential element of Princesshay means that there are now people living in the city centre, as well as restaurants with the benefit of outdoor seating areas.
We believe that quality street entertainment adds to the vibrant atmosphere of the Princesshay.
If buskers wish to come and perform here, we operate a licencing scheme and, as a result,  we hold  auditions for potential buskers. Princesshay now has over 100 official and licenced buskers who perform in the centre daily at 6 different busking pitches.
Auditions are very informal and brief, and are conducted by the Princesshay Operations Manager.  You should be prepared to play one or two pieces giving an idea of the range of your performance.  You do not need to bring PA, as auditions take place in the Centre Management office boardroom.  This should take no more than 15 minutes of your time.
If successful, we will issue you with a photo ID card which you will wear when busking in the centre, and you will be asked to sign a code of conduct form requiring you to abide by the regulations of the scheme. You will be added to our register of approved buskers.
If you are interested in obtaining a busking licence or wish to discuss the suitability of your act, please email enquiries@princesshay.co.uk, giving details of your performance and a mobile phone number.
Please note that auditions are held at irregular intervals through the year, depending on the number of potential buskers who have applied to be auditioned.
There are, therefore, no set dates for auditions.  As soon as we receive your request to audition, we will add you to the waiting list and contact you via email once a date has been confirmed.