Only Essential Shops Open
Following the government announcement on Monday 4th January 2021, only essential businesses in Princesshay remain open. Some stores will be offering a click and collect service and selected coffee shops and restaurants will be offering takeaway, delivery and click and collect. Please find all the details outlined below.
If you would like information on reopening of stores please click here.
We want to reassure you that the wellbeing of our staff and visitors continues to be our top priority. In line with the latest Government guidance on social distancing, we have adopted the following measures at this site:
An enhanced cleaning regime including the regular cleaning of all key touch points
Additional signage to assist everybody in following social distancing guidelines
Our teams are following a strict personal hygiene regime including regularly washing hands
Queuing spots outside stores when they have reached capacity
Mandatory face coverings whilst inside shops
Our main public toilets are now closed. Our accessible toilet in St Stephens House is still available on request.
The Princesshay car park is currently closed however the Summerland Gate car park remains open.
Free parking is available during lockdown for NHS workers using the Summerland Gate car park. This is available between 8am – 8pm – simply show your NHS ID to a member of the car park team at the exit barrier.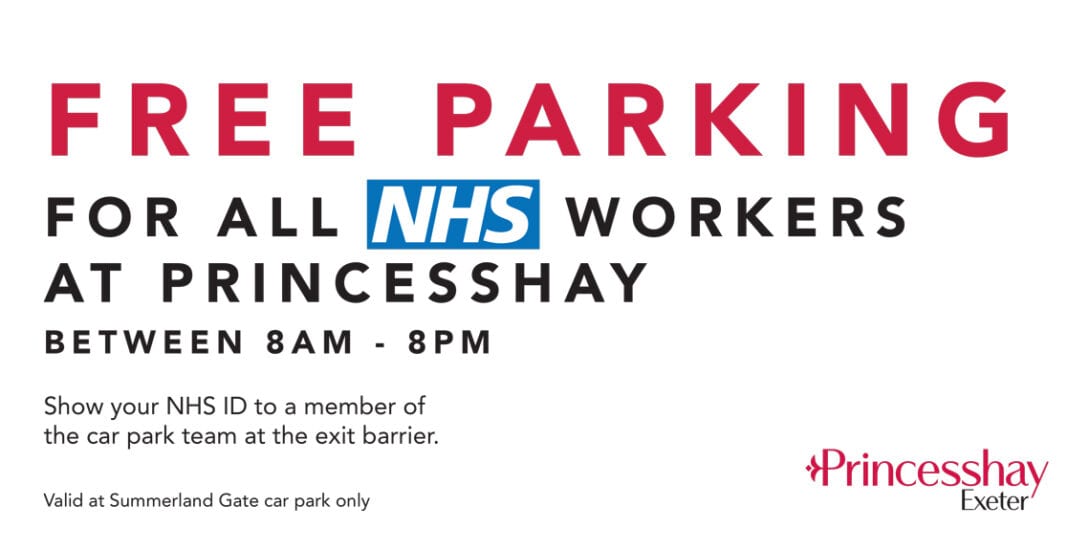 Free parking at Summerland Gate Car Park will end on 11th April 2021
We continue to monitor the situation and Government's public health guidance closely, and we will keep all of our visitors updated via our website and social media channels, as the situation evolves.
Essential stores trading at Princesshay include;
Nationwide; Monday – Friday 9.00am – 3.00pm, Saturday 9.30am – 12.00pm
TSB: Monday – Friday 9.30am – 1.00pm, Saturday 9.30am – 12.30pm
Holland and Barrett: Monday – Saturday 9.00am – 3.00pm, Sunday 9.00am – 12.00pm
Fulfords: Telephone appointment only during office hours. Please call 01392 590043
Click and collect available with;
Takeaway and Delivery
The following restaurants and coffee shops in Princesshay will be offering takeaway, delivery and click and collect.
Wagamama: Deliveroo and click & collect, 11.00am – 10.00pm
YO! Sushi: Deliveroo and click & collect, 12.00pm – 9.00pm
Nandos: Delivery via the Nandos website and click and collect, 11.30am – 9.30pm
Slim Chickens: Deliveroo, Uber Eats and click and collect 11am – 10pm
Costa: Takeaway daily from 8.30am – 5pm
Starbucks: Takeaway daily. Monday – Friday 7.30am – 5.30pm, Saturday 8.00am – 6.00pm, Sunday 9.00am – 5.00pm