Introducing "One Love"
Now on display outside Clarendon Fine Art within Princesshay be sure to take a moment to enjoy One Love created by Doug Hyde.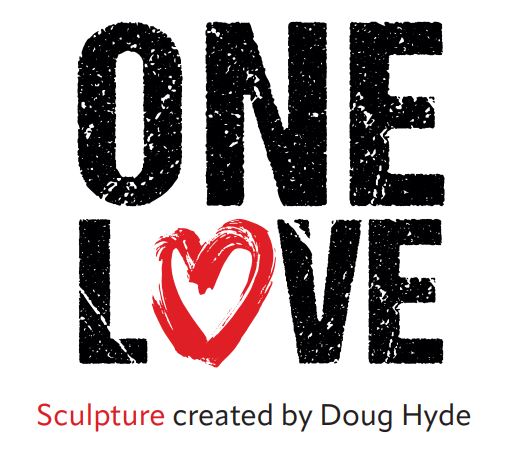 Uplifting, distinctive and inspiring, Doug Hyde's work has been enriching the lives of collectors for two decades.
He has built a formidable reputation as the man behind 'the smile', his iconic signature motif, and his original paintings, sculpture and limited editions have become sought-after collectors' items.
Over the years, Hyde's style has shifted and progressed in subtle ways, reflecting the changes in both his personal circumstances and the world around him. His artistic journey has taken him from monotonal figurative work to blazing technicolour narratives, with his distinctive palette becoming one of his defining characteristics. His exploration of the spectrum takes us into a world of breath-taking light and shade which betrays his personal admiration of Mark Rothko, whose great swathes of colour made a huge impact on him when he first saw them at Tate Modern. Hyde has gradually created a language of elegant formal devices and set pieces which convey both artistic and personal messages. His stylish contemporary take on symbols of romance strips away the inessentials and uses the entire canvas to convey simple gestures and ideas with irresistible force. Most famously there is the iconic smile that has become synonymous with the artist. Its recurring presence celebrates the bond that has formed between him and his audience, as the face smiling out at us so directly engages us immediately and invites us to respond in kind. For the purist, the clarity and impact of this image represents the essence of Doug Hyde. Named in a BBC news broadcast as the most popular living artist in the UK, Hyde has been the subject of numerous books and articles and has been featured on national TV on several occasions.
He counts Emily Blunt and Rory McIlroy amongst his collectors and has created commemorative works for the 2014 World Cup and the 2016 Olympics, as well as being appointed official artist to England Rugby. He has raised hundreds of thousands of pounds for a range of charities. "I believe that my work unites me with my audience, and that although the images may say different things to all of us, they always convey a positive message of universal optimism and hope."
Find out more about the work of Doug Hyde here