Customer service is key right now
The shops excelling at providing a personal service
Our shops are providing exceptional service to customers, in spite of the current restrictions. Whether you need fashion advice, a sharp haircut, a new Apple phone or beauty products to make you feel amazing, then you'll find friendly staff who can help you decide. Shopping solo, picking up a few essentials or simply relishing a day out is made pleasurable in Princesshay's safe environment.
LUSH
Wash your hands for free in store and let the staff be your guide for all your skincare needs. Their products deliver a dose of pampering we're all craving and we're loving their hand care kits. See more information, here.
SAKS
This reputed hairdressing salon is open from 4th July. The team of expert stylists love creating head-turning cuts, colours and styles. Book now. Find safety information, here. Check the opening times.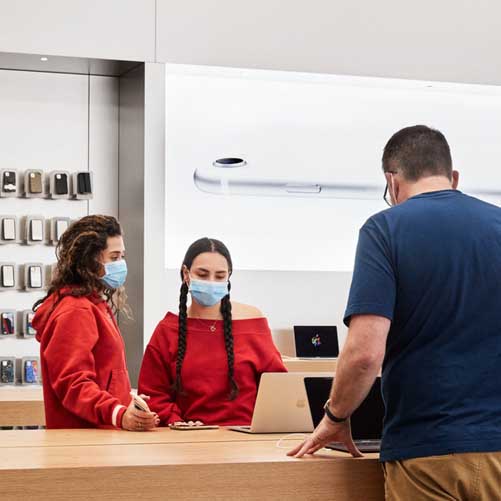 Apple
Renowned for its attentive customer service and spacious stores, Apple welcomes you back to help solve your technical problems and demonstrate its new, beautiful products. The Genius Bar is open as usual. Read their approach to reopening stores.
GAP
An American company, GAP has always been hot on customer service; greeting people at the door and helping you find the right clothes' sizes. GAP Kids' staff are also adept at picking out well-fitting children's clothes and gifts for babies and toddlers.
Levi's
For a perfectly fitting pair of 501 jeans, just ask the staff, who can guess your size just by looking at you! Levi's customisation service and new summer styles are other great reasons to shop in-store.
Five practical shopping tips
1. Fitting rooms in most stores are closed for the moment. Shops are following government guidelines to prohibit trying on garments in-store, however, you can take your purchased items home and see if they fit. Returns policies vary (and some have been extended), and returns will be quarantined.
2. Check the shop's refunds policy and ask a member of staff at the till about how you can return items.
3. Look online before going in store in order to narrow down your choices. Shop staff will be happy to help you find exactly what you're looking for when you visit.
4. Feel free to call any of our stores before visiting them to ask if they have the item you're looking for in stock. The phone numbers are on each shop listing, here.
5. Find our FAQs about your visit, here.